Kinky Boots
Bundle
Buy Bundle
NEW! Purchase our entire Broadway Series (including "The Sound of Music" "Kinky Boots" and "Rock of Ages") and receive a 15% discount on your purchase!


The hills are alive! A brand new production of
The Sound of Music
is coming to Shippensburg. The beloved musical story of Maria and the von Trapp Family will once again thrill audiences with its Tony®, Grammy® and Academy Award® winning Best Score, including "My Favorite Things," "Edelweiss" and the title song.
The Sound of Music enjoyed extraordinary success as a live television production when "The Sound of Music Live!" aired on NBC in December, 2013 and was seen by over 44 million people. 2015 marked the 50th anniversary of the film version, which continues to be the most successful movie musical in history.
KINKY BOOTS
is Broadway's huge-hearted, high-heeled hit! With songs by Grammy® and Tony® winning pop icon Cyndi Lauper, this joyous musical celebration is about the friendships we discover, and the belief that you can change the world when you change your mind. Inspired by true events, KINKY BOOTS takes you from a gentlemen's shoe factory in Northampton to the glamorous catwalks of Milan.
Charlie Price is struggling to live up to his father's expectations and continue the family business of Price & Son. With the factory's future hanging in the balance, help arrives in the unlikely but spectacular form of Lola, a fabulous performer in need of some sturdy new stilettos.
With direction and choreography by two-time Tony Award-winner Jerry Mitchell (Legally Blonde, Hairspray) and a book by Broadway legend and four-time Tony Award-winner Harvey Fierstein (La Cage Aux Folles), KINKY BOOTS is the winner of six Tony Awards including Best Musical, Best Score and Best Choreography.
Take a step in the right direction and discover that sometimes the best way to fit in is to stand out. "There is no show hotter than KINKY BOOTS!" – CBS News
Broadway's Best Party is turning up the volume to ten! The
ROCK OF AGES Tenth Anniversary Tour
is blazing across North America!
Nominated for five Tony Awards®, including Best Musical, ROCK OF AGES captures the iconic era that was the big bad 1980s Hollywood. Know What Love Is, Feel the Noise, and Take Your Best Shot at one of the Sunset Strip's last epic venues, a place where the legendary Stacee Jaxx returns to the stage and rock-n-roll dreamers line up to turn their fantasies into reality.
Featuring the music of hit bands such as Styx, Poison, Twisted Sister, and Whitesnake among many others, this Tenth Anniversary production features a dynamic new cast revisiting the larger than life characters and exhilarating story that turned ROCK OF AGES into a global phenomenon.
This is one for the ages that will have you singing "Here I Go Again."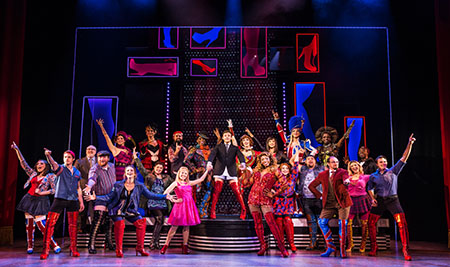 Friday, April 5, 2019 - 8 PM

Tickets: $75, $65 & $55

NEW! Purchase our entire Broadway Series (including "The Sound of Music" and "Rock of Ages") and receive a 15% discount on your purchase!

KINKY BOOTS is Broadway's huge-hearted, high-heeled hit! With songs by Grammy® and Tony® winning pop icon Cyndi Lauper, this joyous musical celebration is about the friendships we discover, and the belief that you can change the world when you change your mind. Inspired by true events, KINKY BOOTS takes you from a gentlemen's shoe factory in Northampton to the glamorous catwalks of Milan.

Charlie Price is struggling to live up to his father's expectations and continue the family business of Price & Son. With the factory's future hanging in the balance, help arrives in the unlikely but spectacular form of Lola, a fabulous performer in need of some sturdy new stilettos.

With direction and choreography by two-time Tony Award-winner Jerry Mitchell (Legally Blonde, Hairspray) and a book by Broadway legend and four-time Tony Award-winner Harvey Fierstein (La Cage Aux Folles), KINKY BOOTS is the winner of six Tony Awards including Best Musical, Best Score and Best Choreography.

Take a step in the right direction and discover that sometimes the best way to fit in is to stand out. "There is no show hotter than KINKY BOOTS!" – CBS News