Ballroom Dance Lessons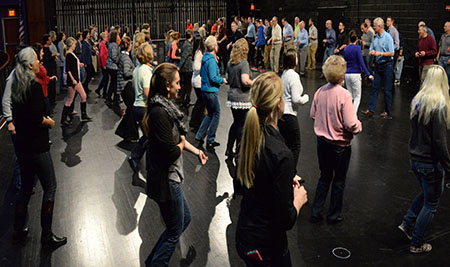 MONDAYS THIS FALL:
October 23, 30; November 6, 13, 20, & 27
Beginner Class – 5:30 PM
Advanced Class – 6:30 PM
$35 per person for the 6-class course
Instruction on the Luhrs Center Stage
Frank Hancock, Instructor
Ballroom dancing continues to receive strong awareness in the media, is a great form of exercise for all ages and is a life-long skill that can provide years of enjoyment.

You've likely seen ballroom dancing on popular television shows such as ABC's "Dancing with the Stars," and FOX's "So You Think You Can Dance." Now you can learn some of the same dance moves that you see taking place on TV! Seasoned dance instructor, Frank Hancock, will have you learning popular dance moves in the inspirational setting of the Luhrs Center stage!

This is a great opportunity to learn the basics as a beginner or brush up your skills if you've already had lessons. Beginners will learn the Tango, Cha Cha, Swing and Foxtrot, while the more seasoned Advanced class will learn the Mambo, Two-Step, Waltz and Rumba. Both singles and couples are welcome.

Advanced registration is requested. Register online at Luhrscenter.com or call the Box Office at 717.477.SHOW.