Concert III: Shippensburg Symphony & Chorus-Opera, "La Traviata"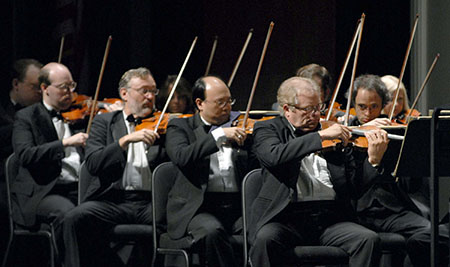 Thursday, July 28, 2016 - 7:30 PM

The Shippensburg Festival Symphony is an ensemble of professional musicians from Pennsylvania, Maryland, New York, and Virginia. The orchestra was formed to provide regional audiences with top-quality professional orchestral performances. The Shippensburg Festival Chorus is 26 professional singers from Pennsylvania, New Jersey, Massachusetts, Maryland and Virginia. The Festival is under the artistic direction of Dr. Blaine Shover, professor of music at Shippensburg University.
Robert Treviño, guest conductor for all concerts
Since his professional debut in 2003 at the age of 20, Robert Treviño has become an emerging force on the international music scene. Mr. Treviño recently completed a wonderful four-year tenure as the Associate Conductor of the Cincinnati Symphony Orchestra from 2011-2015. Prior to this appointment he served as the Associate Conductor of the New York City Opera at Lincoln Center from 2009 – 2011 where American opera fans know his work on productions of Don Giovanni and A Quiet Place as well as for his performances in VOX: American Opera Series where he worked on the world premieres of five new operas. An avid advocate and performer of contemporary music, Mr. Trevino has commissioned, premiered, and worked closely with many leading composers of today such as: Augusta Read Thomas, Sir Andre Previn, Jennifer Higdon, Bernard Rands, Shulamit Ran, George Walker, David Felder, and John Zorn among others.
The Luhrs Center is thrilled to have Maestro Treviño returning to the Grove Theatre stage for his fourth season with the Festival Series!
Grand Expressions
This season, we present in various sizes of orchestra and from a wide range of periods, some of the greatest expressions in each setting, HOWEVER, there is a big twist!
When we think of composers, we often consider scope and size of works. For example, Richard Strauss, the great composer of 4 hour operas, massive orchestral tone poems; Mozart, the composer of piano concerti and of humorous operas; and Schubert, the composer of songs.
We start the season with the smallest work and progressively the works become larger in forces. However, expression is at a high at all times this season.
We begin the Festival Series, Concert I, with one of the great and later masterpieces of Richard Strauss. Metamorphosen isn't written for a 100 piece orchestra, instead, 23 solo strings! The subject of the symphony is a lament in response to the firebombing of Dresden during the Second World War, where the composer saw his beloved city destroyed. Concert I continues with a performance featuring the largest oboe concerto ever written, also by Strauss. This large oboe concerto was written at the end of this great composer's life. What follows is completely unexpected. Mozart's famous Symphony No. 40, his largest scale minor symphony. When do we expect Mozart to be bigger than Strauss?
Concert II opens with Ludwig van Beethoven's Triple Concerto, the only Triple Concerto that this masterful composer ever wrote. And coincidentally, it's one of the few ever written, and is also the largest concerto Beethoven ever wrote! The concerto is followed by an even larger work, Schubert's great C Major Symphony. The final symphony that Schubert ever wrote and the grandest of all of his works.
No more unexpected turns for Concert III. We complete our season with one of the greatest, grandest operas of all time, Giuseppe Verdi's "La Traviata" ("The Fallen Woman"). And what tricks we've played in Concerts I & II will now morph into a complex web of love, pride, desire, and tragedy with a world renowned, all-star class of performers.
Concert III: Shippensburg Festival Symphony & Chorus
Robert Trevño, conductor
Guest Soloists
Repertoire:
Giuseppe Verdi – La Traviata
La Traviata, "The Fallen Woman," is an opera in three acts by Giuseppe Verdi set to an Italian libretto by Francesco Maria Piave. It is based on La dame aux Camélias (1852), a play adapted from the novel by Alexandre Dumas, fils. The opera was originally entitled "Violetta," after the main character. It was first performed on March 6, 1853 at the La Fenice opera house in Venice.
Concert III will also feature The Shippensburg Festival Chorus as well as an all-star cast of renowned guest soloists. Cast includes soprano, Amanda Pabyan (Violetta); tenor, Aquiles Machado (Alfredo), as well as Brad Jungwirth (Marchese); Levi Hernandez (Germont); Matthew Trevino (Barone); Brian Kontes (Commissioner/Doctor); Ryan Connelly (Gastone/Guiseppe); Melisa Bonetti (Flora); and Katrina Thurman (Annina).
PLEASE NOTE: soloists and performers for all Festival Series performances are subject to change.