The Spinners with Little Anthony & The Imperials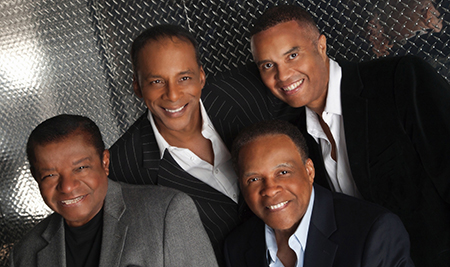 Thursday, October 5, 2017 - 7:30 PM

Tickets: $69, $65, $59 & $49

Delight in an evening of R&B and Soul grandeur with two of the mainstays from that era – The Spinners & Little Anthony and The Imperials!

Most often thought of as a Detroit R&B recording act, the classic group sound of legendary R&B
recording artists, The Spinners has never lost its universal appeal. Throughout the years they
have sold millions of records and topped both the Pop and R&B charts with smash hits like "I'll
Be Around," "Working my Way Back To You/Forgive Me, Girl," "One of a Kind (Love Affair)," and "Then Came You." Today, original member Henry Fambrough is joined onstage by lead singer Charlton Washington, high tenor Marvin Taylor, tenor Ronnie Moss, and bass singer Jessie Peck; a soul-infused 5-piece band, led by Keith Ferguson, backs them up.

Approaching sixty years in the business, Jerome Anthony "Little Anthony" Gourdine was always known for his high-pitched falsetto voice and has led the legendary group, Little Anthony and The Imperials. Little Anthony & The Imperials continues to amaze crowds with their rhythm and blues/soul/doo-wop vocals and their Top 40 hits including "Tears on my Pillow," "Shimmy, Shimmy Ko-Ko Bop," "Goin' Out of my Head," "Hurt So Bad," and many more. And Little Anthony has still got it! His powerful and amazing vocal range coupled with some of the most ageless songs ever written transport the audience to a place where timeless music lives on forever.