Peppa Pig Live! Peppa Pig's Surprise!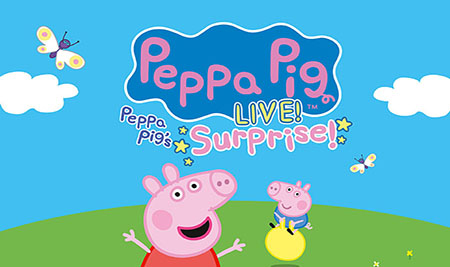 Saturday, May 12, 2018 - 6 PM

*

Tickets: $43.50, $33.50 & $23.50
Peppa Pig, the #1 Family show of 2016, is back with an action-packed live show featuring your favorite characters as life size puppets and costume characters in Peppa Pig's Surprise! Come join Peppa, George, Mummy Pig, Daddy Pig and more in an all singing, all-dancing adventure full of songs, games and surprises! Discover more information about this exciting musical theatre performance at
www.peppapigliveUS.com.


Purchase a Peppa Pig's Surprise Party Pass for an additional $80!
VIP Package includes:
* One (1) premium reserved ticket in the first fifteen (15) rows of the venue

(These VIP seats are indicated in yellow).
* Exclusive access to the Peppa Pig Party after the show.
* Healthy snacks and water.
* Meet and greet photo opportunity with Peppa Pig cast on the pink carpet.
* One (1) exclusive Peppa Pig party gift.
* On-site party concierge.
* Please note, all ticket-holders - both children and adults - are required to purchase a Party Pass in order to attend the Peppa Pig Party.



* Please note, the start time for this performance has changed from the originally scheduled 4 PM, to 6 PM.