Roots & Boots 90's Electric Throwdown Tour with Sammy Kershaw, Aaron Tippin, & Collin Raye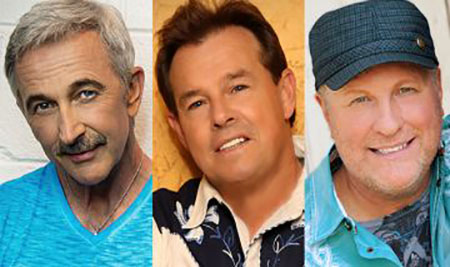 Friday, September 14, 2018 - 7:30 PMTickets: $70, $65 & $55


Three voices that defined 90's Country:
Sammy Kershaw, Aaron Tippin
, and
Collin Raye
. Touring together with one band in 2018! Combined, over 40 Top 10 radio smash hits and 25 million albums sold. Together on one stage, full band electric, one amazing evening.
Aaron Tippin
has crusaded for the working man and woman since he ripped Country music wide open with his uncompromising single, "You've Got To Stand For Something." His voice continued to ring loud and clear with such hits as "I Wouldn't Have It Any Other Way," "My Blue Angel," and more.
In the course of breaking into the ranks of stardom in Country music,
Sammy Kershaw
has made contributions to more than just the charts. His platinum albums were propelled into the record books by hits such as "She Don't Know She's Beautiful," "Love of My Life," "Cadillac Style," "Haunted Heart," and more.
Collin Raye
is nothing if not passionate. His soulful delivery has set Country standards in such searing ballads as "Love, Me," "In This Life," "Not That Different," and "If I Were You." Always an energizing showman, he has also blazed through such vivid rockers as "My Kind of Girl, " "That's My Story," and "I Can Still Feel You."
Booting Out Community Hunger
, a silent auction to address hunger in Shippensburg will take place at the Luhrs Center during the Roots & Boots concert. This event is a joint fundraiser for the Shippensburg Community Resource Coalition (SCRC) and Shippensburg Produce and Outreach (SPO). Ticket holders attending the Roots & Boots concert will be able to participate in the silent auction before the show starts through 8:30 PM. Winning bidders can pick up their item(s) after the show concludes. For more information about these two non-profits check out their websites. SCRC at
https://www.shipresources.org/
and SPO at
http://www.shipout.org/