TOTO: 40 TRIPS AROUND THE SUN Tour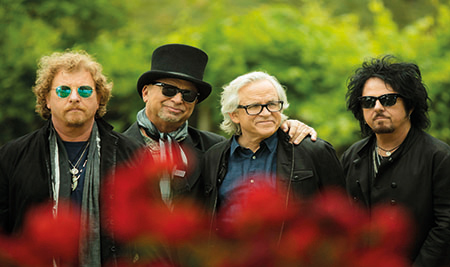 Saturday, November 10, 2018 - 7:30 PMTickets: $75, $65 & $55

40 Trips Around the Sun VIP packages with Toto are $150 each plus the price of your ticket and are available here.
VIP packages include a premium reserved seat, meet and greet with TOTO, individual photo with TOTO, access to an exclusive soundcheck, one signed lyric sheet of "Spanish Sea" (exclusive print for VIP buyers), early entry, first access to merchandise shopping, and one commemorative VIP laminate.
Historically, few ensembles in the history of recorded music have individually or collectively had a larger imprint on pop culture than the members of TOTO. As individuals, the band members' performances can be heard on an astonishing 5000 albums that together amass a sales history of a half a billion albums. Amongst these recordings, NARAS applauded the collected works with 225 GRAMMY nominations. As a band, TOTO has sold over 40 million albums including a long list of hits including "Hold The Line," "Africa," "99," "Rosanna," "I'll Be Over You," and more. With over 39 years together and thousands of credits and accolades to their names, TOTO remains one of the top selling touring and recording acts in the world.
www.totoofficial.com