Day of Human Understanding: W. Kamau Bell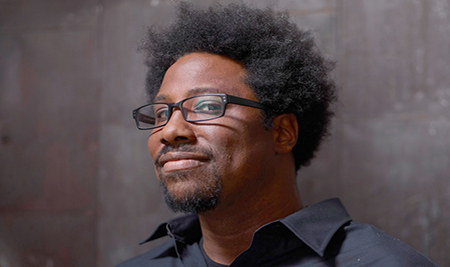 Wednesday, September 26, 2018 - 7 PMFree Admission - No ticket required.
Star of the Netflix stand-up comedy special "Private School Negro,"
W. Kamau Bell
, will speak at Shippensburg University as the Day of Human Understanding speaker on Wednesday, September 26, at 7:00 p.m. in the Luhrs Performing Arts Center. Bell's program "The W. Kamau Bell Curve: Ending Racism in about an hour," is free and open to the public.
A sociopolitical comedian, Bell is the host and executive producer of the Emmy® Award winning CNN documentary series "United Shades of America with W. Kamau Bell." Bell has a book with the easy-to-remember title "The Awkward Thoughts of W. Kamau Bell: Tales of a 6'4", African American, Heterosexual, Cisgender, Left-Leaning, Asthmatic, Black and Proud Blerd, Mama's Boy, Dad and Stand-Up Comedian."
He has hosted three critically acclaimed podcasts: "Kamau Right Now!," Politically Re-Active," and "Denzel Washington is The Greatest Actor of All Time Period." He is on the advisory board of Hollaback! and Donors Choose and is the ACLU Celebrity Ambassador for Racial Justice.
The New
York Times
called Kamau "the most promising new talent in political comedy in many years."
Bell has been nominated for multiple NAACP Image Awards and a GLAAD award, and he was featured on Conde Nast's "Daring 25" list for 2016. The SF Weeklycalled Kamau "smart, stylish, and very much in the mold of politically outspoken comedians like Dave Chappelle," though he was mostly just excited that they called him "handsome."
The New Yorker
said, "Bell's gimmick is intersectional progressivism: he treats racial, gay, and women's issues as inseparable." Kamau is also known for his criminally short-lived FX & FXX comedy series, "Totally Biased" with W. Kamau Bell.
This event is sponsored by the Day of Human Understanding Committee, the General Education Fund and the Office of Ethnic Studies. For additional information, contact the Office of Social Equity at (717) 477-1161 or email Carlesha Halkias at
cghalkias@ship.edu
.