Rock of Ages: Tenth Anniversary Tour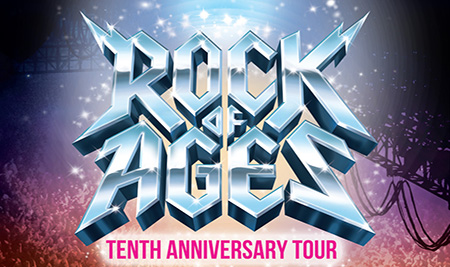 Thursday, April 18, 2019 - 7:30 PM

Tickets: $75, $65 & $55

NEW! Purchase our entire Broadway Series (including "The Sound of Music" and "Kinky Boots" and receive a 15% discount on your purchase!

Broadway's Best Party is turning up the volume to ten! The ROCK OF AGES Tenth Anniversary Tour is blazing across North America!

Nominated for five Tony Awards®, including Best Musical, ROCK OF AGES captures the iconic era that was the big bad 1980s Hollywood. Know What Love Is, Feel the Noise, and Take Your Best Shot at one of the Sunset Strip's last epic venues, a place where the legendary Stacee Jaxx returns to the stage and rock-n-roll dreamers line up to turn their fantasies into reality.

Featuring the music of hit bands such as Styx, Poison, Twisted Sister, and Whitesnake among many others, this Tenth Anniversary production features a dynamic new cast revisiting the larger than life characters and exhilarating story that turned ROCK OF AGES into a global phenomenon.

This is one for the ages that will have you singing "Here I Go Again."

DISCLAIMER - Will your kids love Rock of Ages as much as you will? We think they will have a great time, but you should know that some of the costumes, dancing and language may not be appropriate for kids under the age of 14.