Michael W. Smith's "Christmas"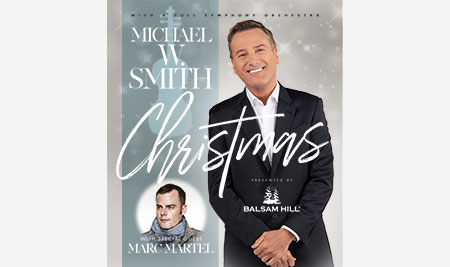 with special guest Marc Martel



Sunday, December 15, 2019 - 6 PM

Tickets: $45 & $35


Multi-Platinum artist, best-selling author, and acclaimed actor
Michael W. Smith
is living out his dream, releasing new music regularly and performing to sold-out crowds of loyal fans worldwide. Smith has earned three GRAMMYs®, forty-five Dove Awards, an American Music Award, and has sold more than 15 million albums. He gives back to the global community, having raised funds to battle AIDS in Africa alongside longtime friend Bono; started Rocketown, a safe haven for young people in Tennessee; and has helped more than 70,000 children's lives through Compassion International.
In 2018, this prolific Christian artist came roaring back with two full-length albums from Rocketown Records and The Fuel Music—
A Million Lights
and
Surrounded
—embarking on his world tour with new music and fan favorites.