Click, Clack, Moo - CANCELED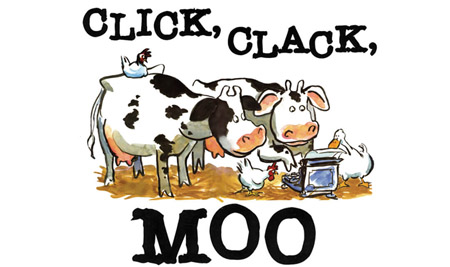 Saturday, May 2, 2020 - 11 AM & 2 PM

Tickets: $15



In accordance with the recent Governor's emergency disaster declaration and based on advice from the Department of Health regarding the mitigation of the spread of the novel Coronavirus (COVID-19), the Click, Clack, Moo performance on Saturday, May 2 has been canceled. We regret this inconvenience. Instructions for receiving your refunds have been sent out via your account email, but if you have not received this notification you can contact the box office at info@luhrscenter.com.




"Cows that type? Hens on strike! Whoever heard of such a thing!" Farmer Brown cries.
When his granddaughter Jenny comes for a visit, Farmer Brown declares the farm a tech-free zone. He takes her laptop in the cold barn with the shivering cows who use her computer to type messages requesting blankets.
"No way," replies Farmer Brown. "No blankets!"
So the cows go on strike, and the chickens join them in solidarity. No blankets? No milk! No eggs!
Will Farmer Brown give in to the animals' demands? Will Jenny get her computer back? Find out in a hilariously moving musical about negotiation and compromise, based on the Caldecott Honor Book by Doreen Cronin and Betsy Lewin.